As a developer, we are either too much reliant on the API Docs, or if it is not available, we'll be happy to switch to Stack Overflow for some tasty Copy-Pasta! 😜
I guess I am kinda different in this case! I am more of a contributor than a seeker. A quick look at my profile shows that I have contributed way too much than taking help from! 😼
I had just a few aims in Stack Overflow and they are too ambitious for a lazy kitten 😹 like me. They are:
Get to the top of the Leader Board by Year, Month, and Week.
Get the 100K Swag.
Become one of the Moderator of Stack Overflow, at least once.
To an extent, my first achievement was solved, during the first week of this year. I had been "Stack Overflow" -ing during the holidays and answering almost literally all the questions in my areas of expertise:
HTML & CSS
JavaScript & jQuery
PHP & MySQL
It was in that particular week, I was called by my friend to be informed that I have achieved my first task, which I was more interested in. 😄
I was so much enthusiastic and happy to find my name as the first item in the leaderboard! After that, it was about a few more points to achieve my second target, which is getting the more prestigious 100,000 reputation in the network. 😄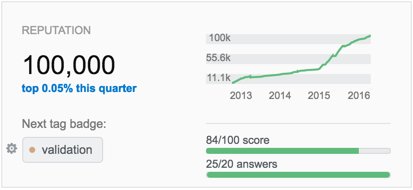 Within few days, I achieved it as well and I was very much excited receiving an email from Robert Cartaino, Community Manager, Stack Exchange Inc.: 😻
This was like THE moment for me to cherish! I have been waiting for this for almost six whole years! 😹 I achieved this in the end of November 2016, exactly after a year I joined my current company.
Good things never stay longer. This is so true in my case. Because, I was using a bot to change the grammar, spelling mistakes, and other things like adding the right indentation and syntax highlighter language, it went beyond the terms and conditions of the site and clearly I have violated my terms about having bots or sock-puppet accounts. 😿
When I was in the verge of getting to the top of the Leaderboard permanently for the first week, I got my account suspended for violating the terms and conditions for 100 days! 😭
Sometimes Stack Overflow does the right thing, like in my case! After getting suspended, I started looking at my life in a different perspective. 😳 I had more time to spend on other things than waiting for the right moment to answer stuff! That's a huge talk, which I would share later!
---
The Swag! 😎
After the verdict, I was totally hopeless about getting the swag, but ultimately I achieved it. I got another pleasant email from Stack Overflow Team with the details of the cargo. 😻 I was very much excited during this time and gave my office address for the precise delivery of the parcel (as Royal Mail didn't deliver my Visa application form, so I have trust issues 😜).
Look at what I got from them!
Ultimately, I am happy! Until my next post! 😜
---
---