I know this is crazy. It has been a hackathon week, being away from my family and home during the weekends kinda sucks, but at the same time, I am excited to be a part of some awesomeness altogether! So, let's dive into the event and do some live updates on my blog!
What is this about?
IC Hack is back! Running for its seventh consecutive year, we're inviting over 300 of the UK's most creative and talented students to London to hack on any project that takes their fancy for 24 hours.
Programming and design come together to build the technology of the future.
This year, IC Hack 18 will be hosted at Imperial College London's South Kensington campus!
On the 27th and the 28th of January 2018, Imperial College, London is conducting its annual hackathon, and will yet again bring together a lump sum of hackers, programmers, designers and more from universities all over the world. It's a 24 hour hackathon, where the hackers will break and innovate to produce projects that push the boundaries of technology.
Learn more about this in their official website at IC Hack 18. There's lot more. If you see, what's going on at IC Hack 2018, you will be amazed:
24 Hours of Hacking
Great Prizes to be Won
Workshops from the Sponsors
Drinks with Morgan Stanley
Karaoke and Sleep Class with Next Jump
Midnight Pizza with G-Research
Contents
Schedule
Sponsors?
What good is a hackathon with goodies if it is not sponsored by the top tech giants? There are five different tiers of sponsors here and try guessing who's the title sponsor!
Title Sponsor
Microsoft

I don't think if anyone needs any introduction about Microsoft Corporation! Microsoft Corporation is an American multinational technology company with headquarters in Redmond, Washington. It develops, manufactures, licenses, supports and sells computer software, consumer electronics, personal computers, and services.
Gold
Accenture

Accenture PLC is a global management consulting and professional services company that provides strategy, consulting, digital, technology and operations services.

Next Jump

Next Jump is an e-commerce company. The company handles loyalty programs for Dell, AARP, Intel, and Hilton Hotel. Headquartered in New York City, the company has over 28,000 merchant partners, both retailers and manufacturers.

Ocado

Ocado is a British online supermarket. In contrast to its main competitors, the company has no chain of stores and does all home deliveries from its warehouses. Ocado is a unique and completely independent online grocer wholly focussed on the home delivery of high-quality food, drink and household goods.

The Phoenix Partnership

The Phoenix Partnership is a software company based in Horsforth, Leeds. TPP develop and supply clinical software including SystmOne, which currently holds over 44 million patient records in the UK.
Silver
Bloomberg
Booking.com
G-Research
Improbable
KPMG
Schlumberger
Visa
Bronze
Emotech
GoCardless
Morgan Stanley
Netcraft
Prowler.io
Partners
ICRS
Imperial College London Data Science Institute
Imperial College London Department of Computing
Imperial College TV
Imperial College Union
Social Media
The official twitter account is @ICHackUK and the hashtag is #ICHack18. Here's a live tweet deck for you:
Tweets about #ICHack18 OR @ICHackUK
Glimpses from the event!
Will be updated on January 27th, 2018 at 10 am, when the event starts! But here are a few things, you can have a sneak peek behind the scenes.
Swag bag packing is well underway! #ICHack18 pic.twitter.com/jq1wml7Y4Y

— IC Hack 18 (@ICHackUK) January 26, 2018
We care about your comfort! Our shipment of pillows and beanbags has arrived ready for tomorrow at #ICHack18 pic.twitter.com/04fVNh4gvV

— IC Hack 18 (@ICHackUK) January 26, 2018
And I have reached London Kings Cross too! Welcoming me with some surprising things like Platform 0 and the religious Platform 9¾. London never disappoints me! 😁
Some Awesome Hackathons
Accenture IC Hack '18 Challenge: Best Ethical / For Good Hack
Objective
At Accenture, our emerging technology team truly believes new developments in artificial intelligence and machine learning will bring a sea of changes - but this change must come in an ethical, responsible framework. And outside of AI too, the way that technology is applied in modern society needs to be a force for good.
So our challenge at IC Hack '18 is for you to build a hack that has an element of "good" that it can bring to any segment of society. It's an open-ended brief, as we'd like to see your creativity on how you approach the problem.
To be clear, your submission for this prize doesn't necessarily need to use AI - it can be anything that you can articulate on why it has a beneficial impact.
Don't forget to submit your hack to this prize on Devpost.
Inspiration
If you're looking for inspiration, here are some starting ideas...
Prizes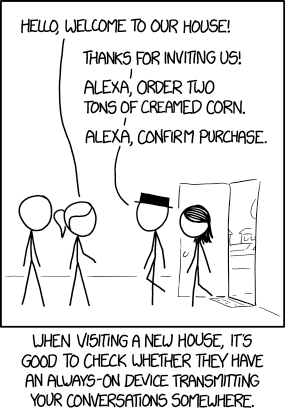 The winning team will get an Amazon Echo Dot per team member. Yay for creamed corn purchases!
Bloomberg Hackerrank Challenge
Hey Everyone! Bloomberg is going to be publishing their Hackerrank Challenge.
So the prizes are only available for Individuals or Smaller Team, but bigger teams are more than welcome to join and and have a hack at our Hackerank questions!
There are 3 questions coming up, so please feel free to pick and choose what you'd like to work on.
Microsoft Challenge for Hackers
We will be looking for innovative applications of this technology the focus will around and the Vision API sets of cognitive services.
Challenge: The Microsoft challenge will focus on the Cognitive Services API. We will be looking for innovative applications of this technology the focus will around and the Vision API sets of cognitive services. AI, Data and pervasive technology which are driving the future. The team solutions will need to a built using Microsoft Cognitive Services. Cognitive Services are a free, easy-to-use, open-source SDK and services and even export models to run offline, starting with export to the CoreML format for iOS 11
The use of the following APIs will be considered:
Computer Vision API Distill actionable information from images
Face API Detect, identify, analyse, organise and tag faces in photos
Content moderator Automated image, text and video moderation
Emotion API PREVIEW Personalise user experiences with emotion recognition
Custom Vision Service PREVIEW Easily customise your own state-of-the-art computer vision models for your unique use case
Video Indexer PREVIEW Unlock video insights
Prizes
Xbox One X for each member of the team + microsoft ruck sack and goodies + a guest blog about your winning Hack on Cognitive Services | Microsoft Azure
Add vision, speech, language and knowledge capabilities to your apps with artificial intelligence APIs from Cognitive Services. Explore our APIs today.
Azure Access for all Students attending ICHack
We will be providing all attendees of the hack with $100 of Azure Credit for 3 months so a total of $300 of Azure via a Microsoft Azure Pass Code
IMPORTANT: Please note the use of the pass is subject to the following Terms and Conditions:
DO NOT redeem promo code with an email account that is attached to an EA, the pass will not work.
Only one promo code can be redeemed per the lifetime of a Live ID/Org ID.
Monetary credit can't be used toward third party services, premier support or Azure MarketPlace and cannot be added to existing subscriptions.
Accounts cannot be extended - the duration and monetary credit amount cannot be altered
If you remove the monetary cap by providing a payment instrument, you will be converted to a 'Pay-as-you-go' account at the end of the offer duration. However, if the account has expired, you will need to create a support ticket to enable conversion.
Offers are not customizable.
Subscriptions are activated within minutes of the promo code being redeemed.
To redeem a promo code:
In Slack Direct Message the Azure Pass Bot the event code is ichack18. Follow the instructions below!
NOTE

The key thing is a new Microsoft Account needs to be created to assign this pass to via http://signup.microsoft.com and ensure you visit www.microsoftazurepass.com logged in with this account or in incognito mode to ensure you redeem the pass to the correct account
TPP Challenge: Greatest Impact on Healthcare
Hi Hackers!
TPP is proud to be sponsoring IC Hack 18, and we're looking forward meeting you all and seeing what hacks you come up with.
Just to let you know we'll be running an award category for the "Greatest Impact on Healthcare". We work with electronic records (and to that end, we're providing some mock data for the hackathon), but we welcome – and encourage – submissions that think outside the box.
At TPP we interact with lots of different healthcare providers around the globe, so we deal with a lot of data (6,660 NHS organisations in the UK, for which we process over 1 billion transactions every day). We need to be able to handle data in a variety of formats as efficiently as possible.
Our mock data for the Hackathon is a set of fictional patient records in the 'Fast Healthcare Interoperability Resources' (FHIR) format. It's a global standard for exchanging healthcare information electronically. It has both advantages and drawbacks, and is something we work with at TPP.
There are plenty of things you could do with this data. For example:
Patients are getting more and more involved with their own healthcare – you could create a user interface that displays their medical information and makes suggestions to improve their health.
You could create a tool to analyse a full set of patient information to identify trends and predict outcomes/treatments.
You'll notice that this format is still quite bloated. We have to deal with a large amount of patient data every second (up to 12,850 patient record retrievals per minute). You could come up with a way to store this information more efficiently.
We'll be judging our prize based on:
Potential impact on health/society
Practicality
Wow factor
Here are a few links which may help you get started:
Good luck and see you there!
Ocado Fastest Delivery Challenge
Ocado is holding the fastest delivery challenge. Which is based on a routing optimisation problem.
Ocado delivers 200000 orders from just one of its automated warehouses. Of which there are 4. Being able to deliver customer orders more efficiently, using less vans and fuel is not only important for Ocado's profit margin but also for the environment.
If you would like to take a crack at an interesting NP hard optimisation problem and have a change to win an Amazon echo dot and Samsung Gear VR each check out our problem.
Sessions
Some sessions were running side by side by the sponsors. Some info shared from them.
Microsoft
It was a casual discussion with the Microsoft Representatives:
Lee Stott
Vincent van der Walt
Frances Tibble
Ahmed El-Mahdey
Some interesting questions and brainstorming happened and I was lucky to be a part of asking a few good and crazy questions.
Artificial Intelligence is growing like anything. Let it be Google or Microsoft... The internet giants have built a huge not that understands human and think more than a human could. What's gonna happen in next few years? Will computers replace humans and what are our job prospects?
Haha! Don't worry, our jobs will not go away. We will definitely need some human to do stuff.
What is the best way to get placed in Microsoft? How to build an awesome profile and career? What to do if I am a great programmer and a developer but I don't have any public GitHub contributions? What about my awesome Non-Disclosure Agreement protected projects to showcase? What gives?
Make sure you have a great portfolio like adding all the projects done. Make a white-labelled product and open source it.
Some takeaways from the session:
Advices on CV from the Grads look at Hired.com, 1 Page CV, check spelling, project github links.
Future of modifications and cybernetics - Dr Mark Glasson Uni of Reading
Future Computed Book - How ethical Microsoft is and how transparent it is with AI. (~60 pages)
Look up Reading University cybernetics cyborg transformations.
Crack the Code - Microsoft Book.
Sleep Class
Swami Pragyamurti Saraswati has been Director of the Satyananda Yoga Centre (London) for over forty years. Her interest in the spiritual path began in the sixties when she came into contact with the teachings of the Bihar School of Yoga and its founder, Swami Satyananda Saraswati. On Swamiji's instructions she started teaching yoga in 1971 at her house in south London, which we now know as the Satyananda Yoga Centre.

Over the last twenty years Swami Pragyamurti's main areas of work have included the establishment and teaching of a two year Yoga Teacher Training Course, working with people living with HIV/AIDS, and teaching yoga in prison where she feels strongly about the importance and relevance of yoga and meditation to the inmates.

Her warmth and wisdom demonstrate how the Indian tradition of Sannyasa can be integrated successfully with life in a busy Western city.
The folks at NextJump claim that this "Yoga Nidra" relaxes the mind and the twenty minute workout is equivalent to four hours of sleep! This is kinda awesome and we all tried it out!
I just wrote an article inspired from Yoga Nidra: as a Mindfulness Practise for Stress Reduction, Wellbeing and Peak Performance written by one of the teachers of Yoga Nidra who runs sessions at NextJump. It should be a great study!
Submissions
All the submissions are happening on DevPost.
Results
Best Hardware Hack
FPS Galloper 3000
Project Jazz Hands
Best New-comers Hack
Best Web App
Best Native Mobile App
Best Game / AR Hack
DoCSoc Choice
TPP: Greatest Impact on Healthcare
Ocado Technology: Fastest Delivery Challenge
Route Optimiser
Ocado Router Finders
Accenture: Most Ethical / For Good Hack
EarMersion
Speech to Sign
Next Jump: Most Helpful Hack
Microsoft: Cognitive Challenge
And many other prizes have been won in specific categories and by the sponsors.
Videos
Opening Ceremony
Closing Ceremony
IC Hack 18 Montage
Closing Credits
With a deep emotional farewell, we had to part ways as the event comes to an end. We had some great photo sessions.
Gallery
All the photos are available in their official IC Hack 18 Facebook Album.
I am explaining the results of promoting the blog and IC Hack website to the social media manager at IC Hack 18.
There was a Tetris BlockBattle going on near our stall!
Group Pictures!
This one with Microsoft's Lee Stott!
And the rest of the committee of IC Hack 18!
Takeaways
I had a great deal of goodies while leaving from the venue. Some are here:
And some tee shirts too!
---
---